Author Sonja, posted January 8, 2017
83 Categories with 854 Podcasts and 67490 Episodes and 4 Recommenders.
As you can see all the numbers increased. But 4 recommenders !?! and 2 of them are Sonja and Stefan? So this week I want to ask each of you to write a recommendation for your favourite podcast. More recommendations are possible, but one per user would be a great start. It is also possible to recommend on episode or chapter level.
Login, search for the podcast you want to recommend, select the podcast or a specific episode and let us know why others should listen to it. Write a recommendation to get your 5 seconds of fame every minute (as log as your recommendation is within the last 10 recommendations).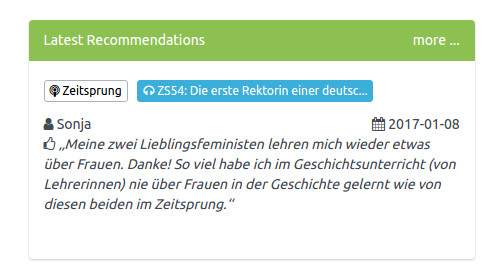 ---
Tweet
---