Author Sonja, posted June 26, 2017
It is now possible to add single feeds to Panoptikum with Suggest a podcast!
After the Login you find under your user name the menu entry "Suggest a Podcast". With this function you can add a single feed directly to Panoptikum without the need to export an OPML-file from your podcatcher. We still recommend to use the OPML upload function for several podcasts, but this offers a quick and easy way for a single feed.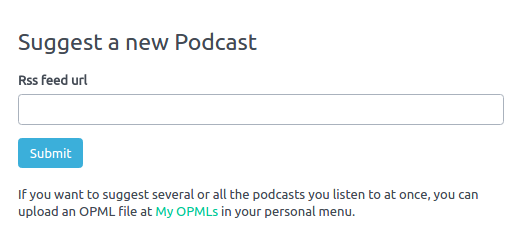 Other improvements of the last weeks:
A lot of work was the merging of Personas. Thousands duplicates were merged based on
the same name, if referenced in same podcast or episode
the same email address, if only name notation differs
This should now give a better overview: Personas.
---
Tweet
---